In this section...
Cheer Dance UK Competition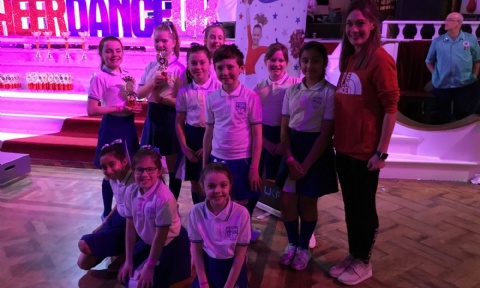 Blackpool Tower Ballroom - Sunday 18th March 2018
On Sunday 18th March, our cheers team went to Blackpool Tower to compete in the Cheer Dance UK Competition. The competition was held in the Blackpool Tower Ballroom where Strictly Come Dancing is held.
At the competition we had to dance a solo dance against lots of other dancers in our age group. There were up to 40 dancers in each age group. We all danced amazingly with lots of effort, enthusiasm and energy. After each round the Judges recalled dancers who they thought impressed them. We did really well and got many recalls. In the 11 year's Solo dance Annie and Kate got through to the final stage and then finished with a fantastic 3rd place for Kate and 4th place for Annie!
We then had our Team dance to perform against many other cheer teams from all over the United Kingdom. Again we danced like professionals with lots of spirit and energy! Miss Grillo, Mrs Whitehead and Mrs Maudsley were very impressed with our performance!
We really enjoyed our first Cheer Dance UK Competition at Blackpool. It was a great experience and although we were the only primary school against many other professional dance schools, we performed amazingly and received lots of praise from other dance schools, saying how fantastically we danced! Mrs Porter was also very impressed with how well we add did and how well we represented our school.
A huge thankyou to all our parents for their support, enthusiasm and holding back from joining in with the 'mums' Dance¬
Also thankyou to Mrs Whitehead, Mrs Maudsley and Miss Grillo for organising the event.
We all had a great day!