In this section...
Burnley School Elite Cross Country Competition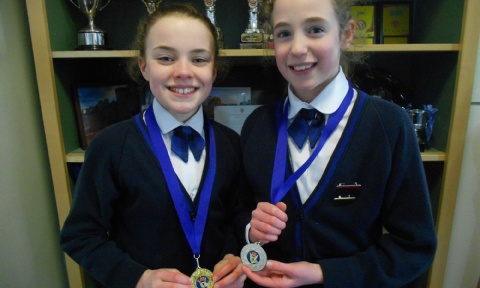 Gold Medal winner Annie and Silver Medal winner Amelia
On Wednesday the 21st of February our Cross Country team from Years 5 and 6 went to Towneley Park to take part in the Burnley Schools Elite Cross Country race. It was a very long and really tough course but all our children were really looking for to it. The girls race was first and there were 122 runners competing altogether. A fantastic well done to Annie who won a well-deserved Gold medal and Amelia who won the Silver medal. Olivia came in 14th place and Eliza 24th .
The boys race was next and 125 boys competing in this race. A super well done to George who was 15th. The girls team and George will now go forward to represent Burnley at the East Lancs Cross Country Competition in June in Blackburn. Well done also to all our other boys who finished the race in the first 50.
Well done to our fantastic Cross Country runners and a big thankyou to the parents for their support and help with transport.https://www.burnleyexpress.net/news/burnley-students-top-the-podium-at-cross-country-event-1-9037683