In this section...
ISA Athletics Regional Final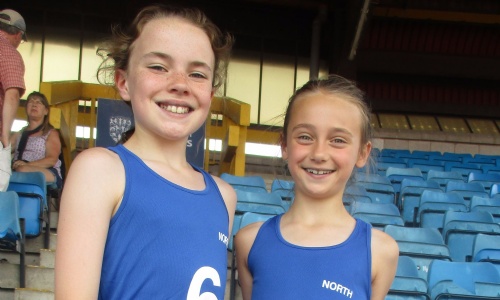 Annie & Olivia at Alexander Stadium in Birmingham
On Monday the 19th June Annie Geoghegan from Year 5 and Olivia Metcalfe from Year 4 went to the Alexander Stadium in Birmingham to represent the North at the ISA Regional Athletics Competition. There were children from all over England taking part in a range of track and field events. All the competitors taking part had qualified from their regional finals and there was some excellent talent on show. Olivia was very nervous when it came to her 600 metres race, she took some persuading but she ran a very good race and came in a respectable 11th place.
Annie ran a fantastic 600m and was very unlucky to be pipped into 4th place on the line. Annie then ran in the under 11's 75 metres relay. This race was very exciting and Annie's mum and Mrs Barker felt very nervous and couldn't watch. Annie ran a fantastic second leg and the team won a well-deserved silver medal.
A fantastic well done to both our girls they represented the North and our school extremely well on a very hot day!