In this section...
Crandale Geography Field Trip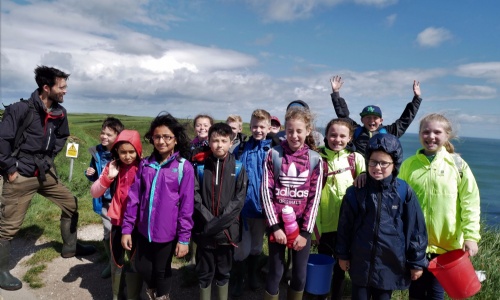 Year 5 Geography Field Trip to Cranedale by Annie Geoghegan
On Sunday 11th June our Year 5's, Mrs Hannah and Mrs Maudsley went to Cranedale, Kirby Grindalythe on a Geography field trip. We arrived at school raring to go and there was a lot of excitement in the air, we waved goodbye to our parents and set off. It was a long drive but when we got there we were full of energy. We were met by our instructor Chris, who took us on a tour around Cranedale and showed us our rooms and met in the courtyard. Chris told us what we were doing that day we were doing Orinenteering so he took us into the Cranedale field and we got into pairs girl and boy, we had to find letters and colour them in me and Xavier won finding all of the letters!
For tea we had a three coure meal: Soup, Jacket Potatoes and Banoffee Pie, it was delicious.
The next day we went to Flamborough Head to explore the beach we found lots of stones and even caves! We had another instructor called Tom we went rock climbing with him and found lots of creatures we sorted them into food chains: producer, herebivores Omnivore and carnivare. Then we we went bird watching at Bempton Cliffs and saw birds including: Gannet, Razorgull and seen a Puffin! Then we had a short drive home and had another delicious tea!
On our last day we went to the moors and went Griff walking and we ate wood - sorrel which was surprisingly tasty. We then went river dipping and found hundreds of organisms and we learned things about them. At the end we played a game of Fox and Grouse which was a fun way to end the day. It was a great experience and everyone had a great time! Please see our photographs under the gallery.