In this section...
Burnley Schools Tag Rugby Competition  Winners!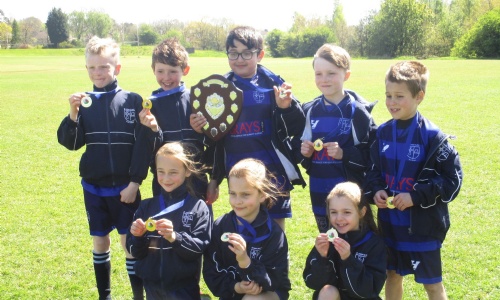 Y3 & Y4 Tag Rugby bring home the medals!
On Wednesday the 3rd of May our Year 3 and 4 tag rugby team went to Burnley Rugby Club to take part in the Burnley Schools Tag Rugby Competition. There were 20 schools in total taking part and each school was put into a group of 4 teams. We played St Augustines, Padiham St Leonards and Worsthorne in our group. We won all our games and progressed to the quarter final against St John's, Burnley.
This game was very exciting, fortunately we came out on top winning the game 4-3. In the Semi Final we played St Mary's Burnley, again this was another close match which we won 3-2. In the final we played Wellfield School. This match was very competitive end to end.
All our children worked hard and played very well. We came out on top again winning 4-2. Well done to our tag rugby team winning the gold medal and not losing one game in all the competition.