In this section...
Arty - Fact Theatre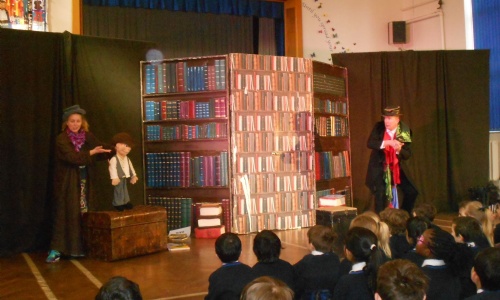 We were treated to a fantastic production called "The Reading Room" brought to us by Arty-Fact Theatre. The actors brought to life excerpts from Charles Dickens' "Oliver Twist" Homer's "The Odyssey" and Shakespeare's "Macbeth"
This is Nathan's review of the performance.
On Tuesday 21st March, a theatre company called Arty-Fact visited our school. Two amazing actors performed a play called "The Reading Room" The play was based on books and included stories such as Macbeth. We were told about authors like Homer and William Shakespeare.
The plot was about a woman called Helen E. Tree who was trying to get a job as a newspaper reporter. The boss of the Daily World, the newspaper company announced that there was a competition for who could be the newspaper writer. The competition was who could write the best mystery story. Helen E. Tree goes to the library to find some ideas so that she can get the job as newspaper writer. The library was haunted and apparently someone had died in there but the library had been re-opened. So Helen E. Tree walked in and that is where she met Mr Mance.
I think the actors played different parts very well. They brought the stories to life and were very good at acting. Mr Mance could jumpscare us easily which I also liked.
On the whole the play was excellent and I hope that the same company could come maybe next year. I would recommend this play to everyone I know.