In this section...
Lancashire County School Sports Hall Athletics Final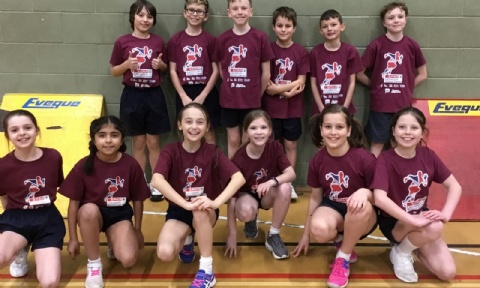 Tuesday 5th March 2019 at Blackpool Leisure Centre
On Tuesday the 5th of March, some children from our Years 4, 5 and 6's went to the Blackpool Leisure Centre to compete in a Lancashire County school final representing Burnley. We are very proud with everyone who participated in the competition and we couldn't have asked more from them.
When we arrived we were all very excited and ready to go even though we were competing against 14 other schools from around Lancashire.
We started the competition off with the girls on the track and the boys on the field events. The first to race compete were Sophia, Stella, Cora and Zoya. They ran extremely fast and we placed a promising third. On the other side of the hall, our boys were partaking in events such as long jump, triple jump and chest push. George and Lucas were excellent at their event by placing first in the triple jump and chest push. The next race was the boys' obstacle relay with George, Noah, Lucas and Luke. Lucas started us off very well putting us in third place from the start. We kept our nerves on the baton changes and kept our position dominantly. We were unlucky not to get second. During the girls' race and their events they were all keen and determined athletes resulting in them all placing high in their field events.
George and Alistair, who are the authors of this piece, partook in the speed bounce event, Alistair got 46 and George got 52. This put us into first place on the speed bounce.
Our final event was the relay race. The Girls took out to the track and were confident they would do well. They were proved right by placing another third place in their heat. The boys prepared for the race very well and they were raring to go. Noah started us and George finished off the race. He managed to slip into second by simply ducking his head.
We weren't very confident when it came to the award ceremony and unfortunately we placed 10th position but we were happy to make it to the finals and pleased with the effort we had all put in. Well Done Team!!!
A special thank you to Miss Grillo for our Athletics training. And a super thanks to Mrs Maudsley, Miss Grillo, Sophia's Mum and Olivia's Mum for their help with transport and their consistent support during the entire event.