In this section...
Year 3 & 4 Basketball Competition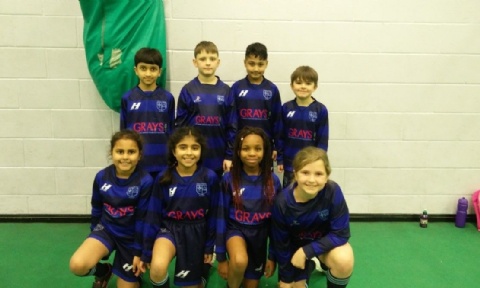 Tuesday 5th February at Spirit of Sport,
On Tuesday 5th February, children from years 3 and 4 took part in a basketball competition at Spirit of Sport. The tournament was a split between boys and girls and each team played 5 matches. Both teams did us proud as they faced strong competition from lots of different schools.
First, the boys played St Mary Magdalene's. Ali Hamza was fantastic at passing the ball down to Archie, who tried his best to score. Sohan was amazing at intercepting the ball at the back. A super effort from all the boys. They were unlucky to come out with a 0-0 draw.
The other two matches also resulted in draws, with goals hard to come by. However, William's smart runs on the wing, resulted in more space for the attack. This meant the brief dry spell of goals was more than made up for in a final match resulting in 4-3 against St John's Padiham. Unfortunately, despite the valiant effort and super goals, the boys were pipped at the post and lost their final match. The boys all worked very hard and they should be proud of their performance.
The girls team faired extremely well against serious opposition. Competing against, St John's Padiham, St Mary Magdalen's, Christ the King and many more. The team got off to a good start, winning convincingly. Alexia's amazing defence and dribbling, complemented by Fatima's fantastic passes down court allowed many goals for Park Hill's girls. Zoya was triumphant as top goal scorer. After words of wisdom from Mrs Barker, and a very supportive team, Nobuhle began to score extraordinary goals which resulted in many victories for the team. The girls remained undefeated throughout the tournament. All the girls put fantastic effort in and showed great teamwork.
Both teams played very well, showed good sportsmanship and demonstrated our school values. Thank you once again to parents and staff for their support and encouragement.