In this section...
ISA North Basketball Competition at Ellesmere Port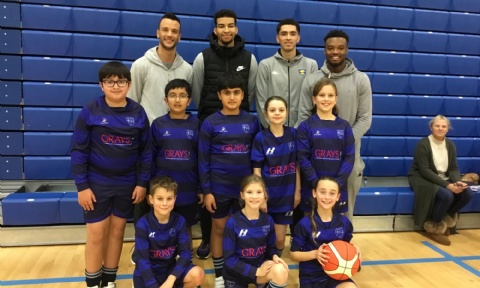 Our Basketball teams with the Cheshire Phoenix Basketball team
On Wednesday 28th of November our Basketball team went to Ellesmere Port Sports Centre to participate in a Basketball competition where 12 schools were competing. We were playing on the court that is home to the basketball team Cheshire Phoenix.
The competition looked fierce as some of teams were fully equipped with Basketball strips and trainers but we were still determined to give it our best shot. We were off for the first game but to Miss Grillo's delight she was given the job of refereeing.
We gave it our all in every game we played, showing great determination and drive to succeed. Naail scored six amazing goals in the first match. Alistair took every chance he could to try and get the ball off the other players. Even though some of the teams were very tough competition we gave them a good game. We managed to win 2 of our games, draw 2 and lost only 1 which resulted in us coming 3rd place in our group, just losing out on 2nd place to Abbotsford on points difference.
It was a great day and a fantastic opportunity for us as the professional basketball players from Cheshire Phoenix came to introduce themselves and we all managed to get autographs and had our basketball signed. They even showed us a proper slam dunk!
The whole team played well and the parents definitely came first place for the loudest cheering!
Finally a big thankyou to Miss Grillo, Sophia's mum, Olivia's mum and Hashir's dad for your support and for helping with transport. It was greatly appreciated, Thank you. We all had an amazing time and a great experience.