In this section...
Year 4 Sports 4 All Festival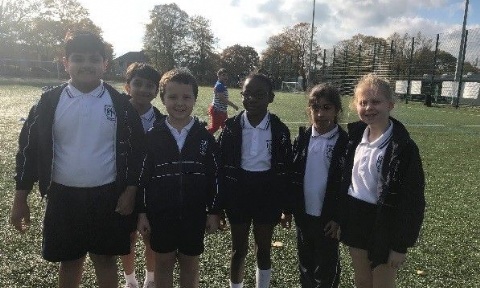 11th October at The Prairie, Burnley
On Thursday 11th October, 6 children from Year 4 went to the Prairie Sports Village to take part in a variety of sporting activities. The first activity was Archery which we were looking forward to having a go at. We listened to the instructions on how to stand and what to do, and then we took it in turns to have a go at firing our arrows at the targets. It was trickier than it looked.
Next we went outside to participate in mini golf. We loved it and improved our shot at every hole. We didn't quite manage a hole in one but some of us got it in in two shots. Miss Grillo also had a go at mini golf and was thrilled to beat Mr Johnson from St Mary Magdalene's.
After mini golf we went to play football. We were split into mixed teams with other schools. Again we all managed to get stuck and even attempted to score some goals past the keeper.
Our final activity was cricket. Sohan and Callum both hit some amazing shots, hitting right out of the area.
We had a great time at the Sports 4 All Festival and all really enjoyed the activities.
Well done to all the children that took part and represented our school. Again comments were made on how smart they all looked.