In this section...
Years 5/6 Dodgeball Tournament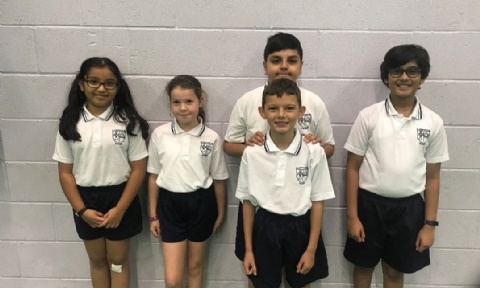 Year 5 and 6 Team at Spirit of Sport
On Tuesday 2nd October a team from Year 5 and 6 went to Spirit of Sport to compete in our first cluster competition 'Dodgeball'. We'd had lots of practice playing Dodgeball in games lessons and target practice in Athletics so we were definitely well prepared.
Our first game was against St John's Burnley and even though we were a player down we took to the court with confidence. But just 2 minutes into the match sadly we were all out, so we decided to think of that game as our warm up. The only way is up, so we picked ourselves up and went to compete in our second game against St Mary's. Our performance had improved and our throws on target and more powerful. We put up a good fight but were defeated. Our spirits had dropped but Mrs Haasbroek told us to forget about it and keep going because it's not all about winning (although I think she was mainly talking to Miss Grillo).
Next we played St Mary Mags it was a tense game but we won!!! Abdul finished the game by an amazing catch and throw at the same time, getting their last two players out and resulting in a win for us! We played again and won a second time.
We all played well and enjoyed ourselves and despite our losses we carried on playing because we were determined to win!