In this section...
Year 2's Fun Run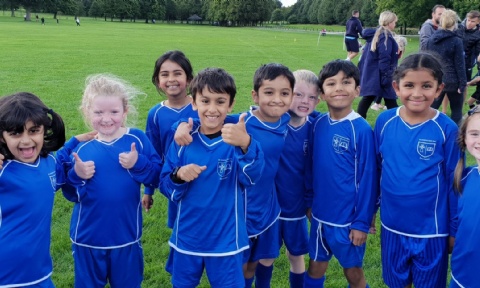 Our team at Towneley Park
On Wednesday 12th September some of the Year 2's went to Towneley Park to compete in the 'Fun Run'. We were so excited to go to Towneley we couldn't keep our still, Haady even went to run in the wrong race he was so eager.
The girls raced first and they were all very determined. They struggled up the hill start but they persevered and made it to the top. Khushleen ran a fantastic race coming 14th place out of over 100 girls even though she demonstrated our school value to show courtesy by letting other girls go in front of her at the finish line.
Next was the boys race and we were all ready and raring to go. We too managed to tackle the hill start and then picked up speed coming down the slope. Even though Zak was having some trouble with his watch at the beginning, he managed to make up some ground as he sprinted past many other runners. Harvey was the first of us to cross the line coming in 36th position out of over 100 boys taking part in the fun run.
We all ran a fantastic race and enjoyed the competition. Well done to all the year 2 runners and a big thank you to all the parents for your support.