In this section...
Bronze Winners -High 5 Netball - County Finals, Blackpool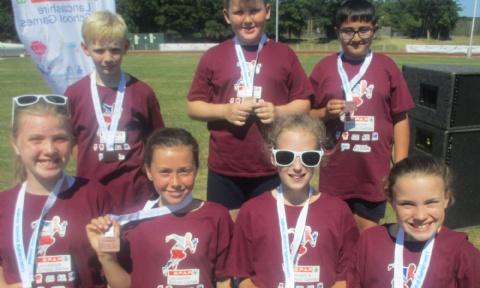 High 5 Netball - Lancashire Spar Games
On a beautiful, hot, sunny 3rd of July our High 5 netball teams travelled to Blackpool to represent Burnley at the Lancashire Youth Spar Games. We set off very early in the morning and travelled on the team bus with all the other schools who were representing Burnley in a range of other sports.
It was very exciting at the stadium. It was very noisy but the atmosphere was fantastic. We took part in a huge parade with all the other counties, it was very exciting.
There were 16 netball teams altogether and each team was put into 2 groups. We played 7 games in the group stages and our team played some amazing netball. Losing only 1 game.
The semi-finals were next and we were up against Ribble Valley we were playing a really good team. Unfortunately we lost the game, however, there was still the bronze medal to play for.
West Lancashire also wanted the bronze medal but our team showed real grit and determination and found the energy to play some fantastic netball to win 9-7.
It was a brilliant day and to come away with the bronze medal and to finish 3rd in Lancashire is a fantastic achievement for our school.
Well done to our amazing netball team and a big thankyou to all the parents for putting up the gazebo so we had some shade.