In this section...
Final Farewell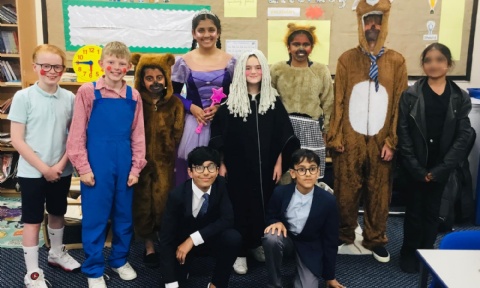 Hello and welcome to my final blog. To be honest I have delayed sitting down to write it because I feel like this is my final connection with Park Hill since leaving. Breaking it down into sections has made the process easier. Upon reflection, when I was first asked to write the blog I felt honoured that I had been picked to share my experiences of school life. I knew I wanted to incorporate facts, science, news and humour whilst reflecting on the school's values.
I hope I have been able to demonstrate a growth mindset through my writing because it is something we value highly at Park Hill and also at home. Growth mindset is a term coined by Carol Dweck, an American psychologist. It is a belief that you can develop your skills and talents through hard work, strategies, and guidance from others. I have come to learn and believe that resilience is one of the most essential life skills for growth and achievement. I have realised that learning from failure is what leads to eventual success. I have had many epic failures through the years, some public, some private, but by applying this mindset I feel like I have been able to identify my weaknesses and areas for improvement and have bounced back stronger.
As I reflect on my time at Park Hill, I've come to appreciate the value of a growth mindset and resilience academically and as indispensable life skills. These principles have shaped my perspective on challenges and achievements, guiding me toward a path of continuous growth and self-discovery.
One of my favourite outings in Year 6 was visiting the Mosque. As a Muslim, I enjoyed sharing this experience with my non-Muslim friends and teachers because it allowed them to learn about something that holds significance for me. When Mrs Whitehead arranged a trip to the Gurdwara I felt a mix of intrigue and excitement since I had never been to one before. A Gurdwara is a place where Sikhs come together for worship. As we arrived, a Sikh flag was standing tall, to be specific it was a lotus Norfolk yellow in colour with the Sikh emblem in the centre. Once inside we followed the customs of removing our shoes, putting on special scarves on our heads and washing our hands. We made our way to the prayer hall. I found it amazing that the focus of attention and the only object of reverence in the main hall (or Darbar Sahib) was the Sikh scripture, the Guru Granth Sahib. As we walked through we listened to someone reciting the Guru Granth Sahib which is treated with the same respect that would be given to a human Guru. The Guru Granth Sahib is kept in its own room during the night and carried in procession to the main hall for the morning worship. We then headed into the office for our enlightening talk on Sikhism. We learnt the following:
The purpose of a Gurdwara is to allow its followers to seek spiritual wisdom

It is a place for religious ceremonies

Sikh children learn about the faith, customs, traditions and texts through classes

The Gurdwara is sometimes used as a community centre offering food, shelter, and companionship to those who need it

The central message of Sikhism was a reverence for God while embodying honesty, compassion, and generosity. This resonated deeply with me

The religion of Sikhism went on a journey from the first guru (Guru Nanak) to the Guru who has been transferred from the mortal form of a human to the form of an immortal book that is treated like a human

The language of Sikhs is Punjabi

The Guru Granth-sahib is written in the Gurmukhi script

The Sikh Golden Temple in India is made of real gold and serves 50,000 - 60,000 meals a day
Inside the Gurdwara the absence of idols and statues was striking. I was told that this is because Sikhs worship only one God, and they regard God as having no physical form. I expected to see candles and incense burning because I have seen them at other places of worship but I did not see them (correct me if I am wrong Khushleen).
As a seeker of knowledge, Sikhism captivated me. I love learning about different religions and I hope that Park Hill continues these meaningful explorations as it is culturally enriching.
As always, Park Hill had its much anticipated End-Of-Year production and I was the Narrator. Looking back, I have been a narrator countless times through the years and what an honour to narrate the End-Of-Year production. Narrating is adding spoken commentary for the audience about the action onstage. A narrator is like a storyteller informing the audience about the plot. The production was called Nursery Crimes. Each fairy tale had a twist as we focused on the crimes committed by the characters you would least expect. Drama enhances verbal and nonverbal expression of ideas. A lot of practice went into improving voice projection, fluency with language and persuasive speech.
Little Red Riding Hood was a renowned Hunter who prided herself on her collection of beast heads. However, she had so far been unsuccessful in securing the Big Bad Wolf. Little Red voluntarily sacrificed her grandma so she could "Mount his head high up on the great wall, full of Year 1 art in the dining hall".

In the not-so-very innocent version of Jack and the Beanstalk, Jack was a thug, greedy for gold, "With a lust for cash that made his heart cold". He charmed and fooled Mr. and Mrs. Giant out of their treasures. The criminal was even pleased when his mother perished.

Goldilocks and the Three Bears was set in a courtroom. Charges were being made about Goldilocks breaking and entering, porridge theft and wanton falsification. Goldilocks was portrayed as a hardened criminal who was psychologically disturbed by Baby Bear's perfection through the years.
Some of My favourite parts were Harvey's Michael Jackson moves as the Big Bad Wolf, Aaminah's gangsta getup as Goldilocks and Haady's wig problems as the judge in the Goldilocks scene. The whole thing was a blast. The audience was highly engaged, they laughed at all the correct times (my parents laughed at the wrong times too)! I enjoyed this production and it was a pretty awesome way to end my time at Park Hill.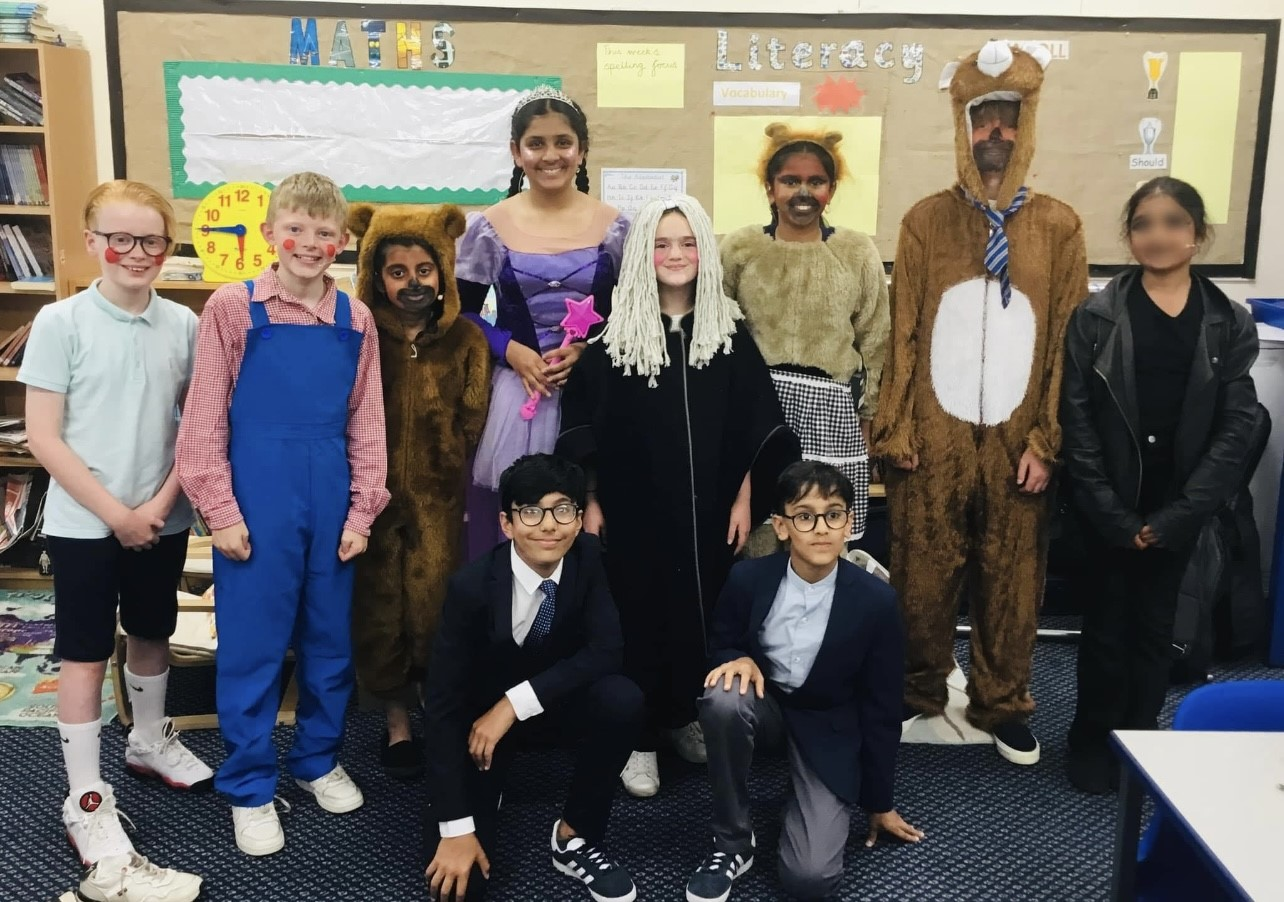 SPECIAL MENTION: Florence played Little Red Riding Hood, Jack's Mother and played the Judge on the second night. Joseph was Jack. Harvey was the Big Bad Wolf and Pinnochio. Khushleen was Red's Grandmother and Fairy Godmother. Aaminah was Goldilocks. Jessica was Jemima Puddle-Duck. Daneen was the Harp and Baby Bear. Aqsa was Mrs Giant and Mummy Bear. Noah was Mr. Giant and Daddy Bear. Haady was the judge on the first night. Zak was a narrator.
Next came the leavers assembly. It started with some Harry Potter-themed drama on what life would be like if we studied at Hogwarts; School of Witchcraft and Wizardry. To set the scene it started in a typical school playground, with footballs being kicked in all directions. There was chaos with children running around, but true to reality, Zak, Haady and I were oblivious to the mayhem, each reading a Harry Potter book. We pondered what life would be like if we attended Hogwarts. Enter our imagination, Much to the audience's delight, we cut to Park Hill School of Magic. We learned how to brew exam success, fly unicorns and transform pets into water bottles. My favourite scene was at the end when we met the sorting hat. I think Miss Haesbroek used Artificial Intelligence to simulate the sorting hat's voice. Each child was called upon to determine what school they would go to. Even though we practised the play many times, Mrs Haasbroek managed to keep the sorting hat dialogue a surprise. I was looking forward to what the sorting hat would say on my turn. I was told that I could be the next Elon Musk or the following J. K. Rowling before it officially declared my next destination as Clitheroe Royal Grammar School. I felt honoured by such high praise!! To link back to the Harry Potter/magic theme, I read somewhere that "magic is believing in yourself. If you can do that, you can make anything happen". (Johann Wolfgang Von Goethe - German Poet, Novelist and Scientist). I fully agree.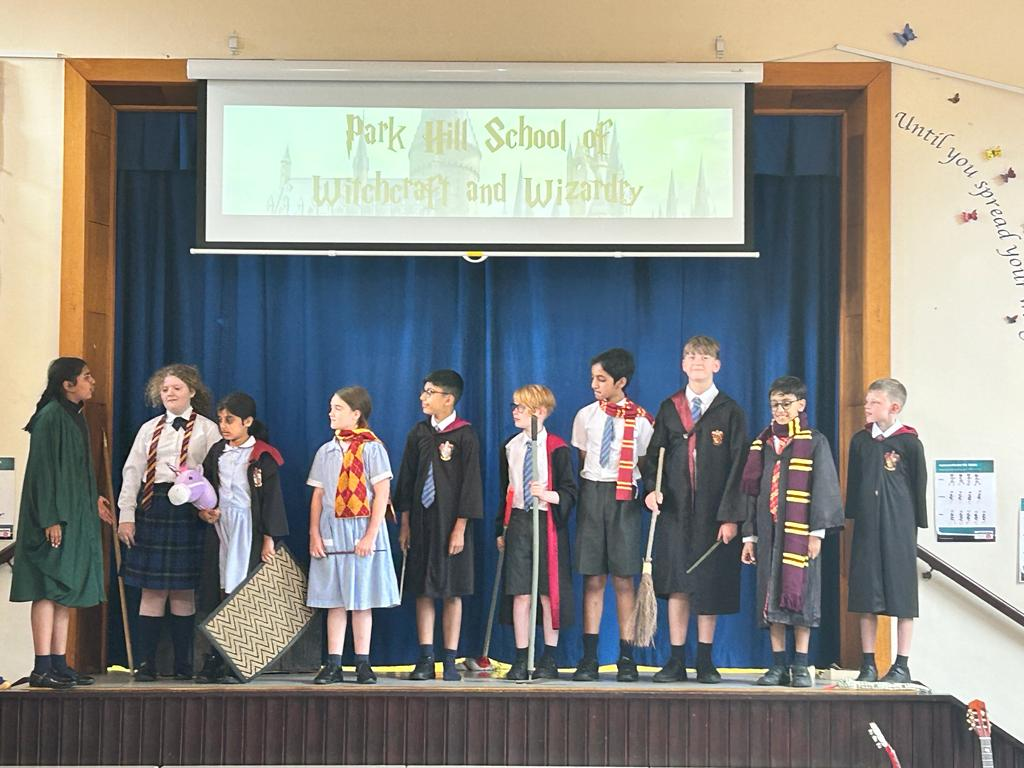 We then sang our remix of the song 'Perfect' by Ed Sheeran called 'Perfect Park Hill'. I played the guitar alongside Zak, Harvey and Haady. As if it wasn't an emotionally charged situation already, we then watched a goodbye message recorded by our seeds. It was sad and cute at the same time.
Finally, all that was left was the prize-giving ceremony. This was about acknowledging and celebrating our achievements during our time at Park Hill. Mrs Whitehead was leading the emotional rollercoaster. Despite the emotion, composed herself and was able to showcase and celebrate each award. It was amazing to see my friends and their efforts celebrated in this way. I was in disbelief when I got the blogging award. Mr Bailey has been a huge inspiration for me since he started at Park Hill. I admire his tech skills and knowledge so when he gave me the Blogging award, it felt amazing. Miss Lomas awarded me the S.T.E.M award. Her words were very kind and thoughtful and for a moment I had to compose myself! Winning the Young Scientist/Engineer of the Year 2022 was such a surprise and I don't think I could have done it without Miss Lomas. I honestly couldn't believe my luck when I won the Mrs Robinson Award! As I was handed the trophy, I looked at all the names before me and I felt proud and happy for my name to be amongst all those hard-working pupils.
Earlier this year my teachers kindly nominated me for the Maxwell Prize. This is a non-academic prize and rewards a holistic approach to school and community life. I was presented with a very special framed Maxwell Prize certificate for getting highly commended and having my name in the Maxwell Prize Roll of Honour 2023. I was gifted the Harry Potter Hungarian Horntail LEGO set as a reward and I love it!!! Thank you. Other treats included little plaques with 'Love One Another' written on them provided by a charity that raises money for poor people in El Salvador. As a faith ambassador, I also received a framed photo of all of the Faith Ambassadors that was taken on school photo day.
This is a reminder of all the trust that was placed upon us and will be taking centre stage on my desk We received our photo book full of memories of our time at Park Hill. I just want to mention that I love how Yahya is ALWAYS photobombing ALL of my photos!! And somehow he has managed to appear in the leavers photobook.
Farewells are undoubtedly challenging, yet they remain an essential part of life's journey. Each person progresses into new chapters, and as I embark on my transition, I recognise that farewells don't always mean the end. While saying goodbye, I find comfort in the knowledge that I'll return to Park Hill for upcoming events, bridging the gap between the old and the new. Farewells, I've come to realise, encapsulate not only change but also the potential for positive transformation and growth.
I want to say a HUGE thank you to my teachers. I am forever grateful. Thank you to my friends for putting up with me. Also, Thank you to everyone who read my blog. I appreciate all the kind comments I received going in and coming out of school. On to my next adventure at Clitheroe Royal Grammar School where I will try to put into practice everything I have learnt at Park Hill. I will miss you all.
I hope I can end my blog on a positive note: Don't seek happiness, create it.
FACT: This was NOT an easy blog to write!!!
FUN FACT: Scotland chose the unicorn as its national animal!!!