In this section...
Testing Time
Hi and welcome back to another entry of my blog. I hope I can inform and inspire you with this penultimate edition. I cannot believe how quickly the term is flying by.
Mrs Haasbroek decided that it would be better for year 6 to complete our assessments early so we can allow time to practise our Year 6 production. We had written tests and also GL assessments that were completed on the computer. I found the mental maths test difficult using the computer as it had a time limit on each question and I am still learning different methods of working under pressure. I really hope I did well. There has been some controversy lately surrounding school children taking exams. Some people have called for the exams to be scrapped, suggesting there are better ways of assessing children's skills. On the opposite extreme, others say exams prepare pupils for tests they'll have to take when they're older. I think exams are an important part of school life but I can't say the same about homework
. In China, high school pupils take an exam that takes 9 hours and is spread over 2 days. At least we don't have to do that.
As a treat for getting through assessment week, I was given some tickets to see some supercars. You work hard, you get to play harder
. Supercars offer somewhere between 500 and 900 horsepower, reach top speeds of 200 mph, can hit 60 mph from 0 to 3 seconds and weigh between 2,200 and 3,700 pounds. Derian House Children's Hospice hosted a 'Supercar Showtime' at Houghton Tower to raise money to help children and young people, whose lives are too short. They invited people owning the best supercars the country has to offer, to bring their cars along for people to marvel at. The tickets were a welcome surprise. There was everything spanning from Porsches to Lamborghinis in all varieties and vibrant colours. I was fortunate enough to sit in quite a few of these amazing automobiles. Seeing these supercars made me realise how advanced and extensive the motorsport industry is with awesome performance-related technology. I was looking forward to seeing the 'Lamborghini Vision GT' as it's my favourite car but with it being a prototype it has not been released yet so it was not there. Yahya was ecstatic to see the Porsche 918 Spyder which is part of the holy trinity of hypercars. The other two are the McLaren P1 and the Ferrari LaFerrari. What a day!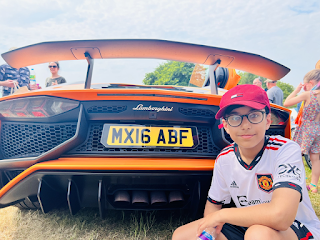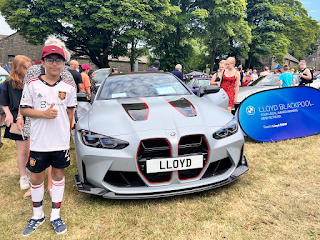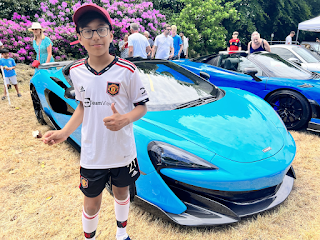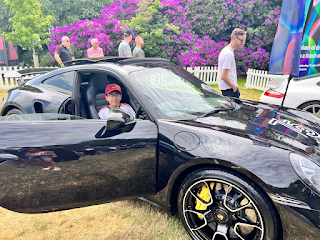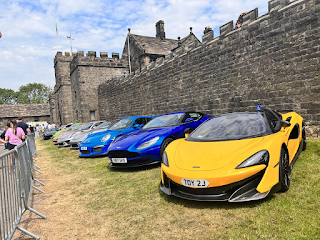 On Monday we had our first-ever Park Hill Science Fair. Science fairs are worth taking part in because, in my opinion, Science is one of the most exciting subjects. I spent a significant amount of time researching and conducting different science projects over the half term. I wanted to do the 'Black Fire Snake' experiment. It uses sand, baking soda, sugar, lighter fluid and fire. When you set the lighter fluid on fire, the sugar and baking soda mixture also starts to burn. As it burns, it creates gas bubbles that get trapped, resulting in the black "snake" structure that rises out of the flames. The result is spectacular. The snake grows slowly and can take 10–20 minutes to reach full size. My mum would not let me do that one, listing risks associated with fire in a school setting. After trialling many experiments, I finally found the perfect one. I started construction on my hologram maker. The hologram was an upside-down pyramid made using perspex taken from my Harry Potter audiobook collection. It was almost impossible to cut the perspex with accuracy as it kept snapping unevenly. I used many of my dad's tools including a multitool which was an experience in itself. It was terrifyingly loud and shot plastic shards dangerously. It was the scoring knife that did the trick in the end. It required a lot of patience but I finally managed to cut the 4 pieces of perspex to construct the pyramid. Once the pyramid was added, the plastic sitting on top of the iPad acted as a splitter. It allowed light to travel through it and get reflected at the same time. The four different sides added the video image into the centre which created a 3d hologram. I tried many different images but decided to use Minions, Mario and Pikachu as the ones to showcase at school. I couldn't believe that all my hard work paid off when I got picked to represent year 6, along with Zak and Aaminah. I then couldn't believe my luck further, when I won! The other entries were incredible. I really enjoyed looking at all the ingenious science projects highlighting the entrants' interests. There were some really cool ones. I think we all benefited from the Science Fair as we investigated and researched topics taking responsibility for our own learning. I cannot believe this was my first and last science fair at Park Hill
.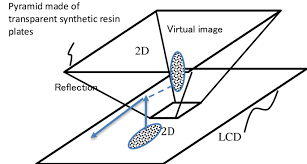 Recently, the Year 6 Sports Crew and Leaders were entrusted with the task of planning and hosting a school games morning. It sounds like a daunting task but we worked as a team to organise a fun day for lower school. We decided to split into pairs and focused on a specific sport.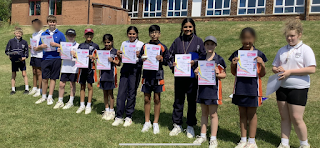 Zak and I: Tag Rugby.
Joseph and Noah: Football.
Haady and Harvey: Basketball.
Aminah and Jessica: Kwik cricket.
Aqsa and Daneen: Handball.
Khushleen and Florence: Netball.
We came up with different ideas for each sport depending on the year group. I think our collective aim was to promote the school sports values whilst having fun. I hope we achieved that. Teamwork inspired us to contribute equally and wholeheartedly to this task, enabling us to come together to accomplish something great.
We spent weeks preparing and fine tuning our musical talents for grandparents day. We practised some classic music pieces and some modern tunes. The whole school came together for the grand finale which was the Eastenders theme song. I didn't know what Eastenders was before that, but having checked on Guru Google it turns out it was/is a popular soap opera set in Watford in Albert Square, a fictional place in the East of London. It follows residents as they struggle to face the challenges of everyday life . I am surprised that i had not heard of this phenomenon in TV entertainment especially as the soap was streamed 366 million times in 2022!
The afternoon started with some dances. We then moved on to showcasing our instrument talent. I played the Harry Potter Theme song on the guitar, Sunshine of Your Love (Cream), Sweet Child of Mine (Guns and Roses) and a solo which was Smoke on the Water (Deep Purple). I looked up to see my lovely grandma beaming at me! It was great to be performing but part of the fun was to watch others perform. I was mesmerised by the strings, re-energised by the brass and rocking as a result of the bass. . We then sang some 'Let's Go Sing' and 'Young Voices' songs. I hope the grandparents enjoyed it, we certainly enjoyed ourselves.
Recently, a team hand picked by Miss Grillo went to the St Peters Centre to compete in the Burnley Swimming Gala arranged by Burnley Schools Sports Partnership. Swimming is a great workout because you need to move your whole body against the resistance of the water. It is a good all-round activity because it keeps your heart rate up but takes some of the impact stress off your body. Swimming builds endurance, muscle strength and cardiovascular fitness. As we were the previous shield holders, we were hoping we could do it again. I was taking part in the breast stroke, front crawl relay and the medley relay. For my breaststroke race, I could not believe it when I came first, I was awarded a bronze overall for that race. We won our boys' front crawl with 15 seconds to spare and did even better in the medley where we were out of the water before the other team had even finished. The girls did equally well winning their front crawl relay and coming third in the medley relay. We were absolutely buzzing! The top 3 teams were called in no particular order to the podium for the winners to be announced. I felt confident but also a bit sick. It was a nail biting moment to say the least. They called out third place. Not Park Hill. They called out second place, still not Park Hill. We were absolutely ecstatic. We did it! It was such a dopamine hit. Dopamine is sometimes referred to as the "happy hormone". It is a primary driver of the brain's reward system, it spikes when we experience something pleasurable. I am so happy that Park Hill managed to win against the other seven primary schools on the night. This is our third consecutive win. We couldn't have done it without the encouragement and support of our amazing teachers and Paul. Special shout to Ethan who swam effortlessly in higher age groups and Abby who came back to our school just for the gala. I have recently started following Ethan's swimming journey via his instagram page (@swimmersjourney). It is amazing to see the hard work, passion and dedication Ethan puts into his sport. A great role model! Check out his blog!!
Recommendations:
Film: Transformers - The Rise of the Beasts You will not be disappointed!

Book: Samurai Sword Series Be prepared to lose some sleep!

Family Day out: See the actual McLaren F1 racing car in real life at Trafford Centre

S.T.E.M: Burnley Science and Technology Festival 2023 1st July at Burnley College
Fact: If you inhale a pea, it can sprout and grow in your lungs.
I hope you enjoyed reading my blog, see you next time for my final one