In this section...
Jamborees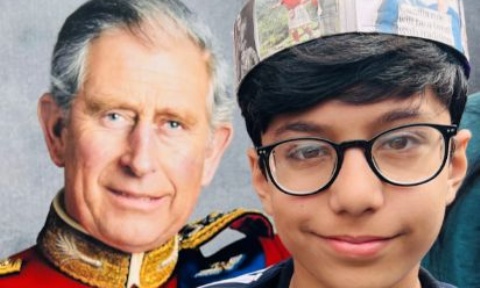 Hi and welcome to another blog. I am happy to be back from my break and raring to go!
We have recently enjoyed two significant religious celebrations. Easter is a Christian holiday celebrating Jesus Christ's resurrection from the dead. For Christians, Easter is a time to reflect on the crucifixion and resurrection of Jesus Christ and to remember his sacrifice and teachings. It is a time of renewal and hope, and many Christians attend special Church services and engage in activities such as egg hunts, gift-giving, and family gatherings.
Eid is a religious celebration observed by Muslims worldwide. There are two Eid's in Islam. Eid al-Fitr and Eid al-Adha. We have just celebrated Eid al-Fitr as it marks the end of the month-long fasting of Ramadan. As always Eid was full of family fun and frolics with lots of yummy food. I felt very much a part of the Eid spirit this year having fasted as much as my body (and mum) would allow! I love Eid and my favourite part of the day is Eid breakfast. We have a customary quiz before breakfast and then my parents showcase their festive delights with a fusion of East meets West. Prayer is a crucial part of the day and I went to the mosque with Yahya, my Dad and my Grandad. We took part in congregational prayers with a sermon delivered at the end in English. The atmosphere was reflective. When we got home, we got to open our presents and enjoy them whilst awaiting extended family. Guests arrived at 4 pm and we had enough time to play football in the garden before dinner was served. It was amazing to host all our favourite people who travelled far and wide to spend Eid day with us.
Year 3 held a lovely assembly about Mary as May is her holy month. The Catholic Church has set aside the entire month to honour Mary for centuries. We started with a procession around the school and carried flowers. We then placed them on the altar and the statue of Mary. The assembly reflected on the similarities between Mary and our mothers, it was very touching to hear each personal account dedicated to mothers. Well done year 3.
Year 6 went to Robinwood in Wales for our Residential trip. We were looking forward to taking part in 15 exciting activities that promised to challenge us and stimulate our imagination. We arrived at midday and immediately started with caving. We played a game called 'Among Us', a popular video game in real life. It was so much fun. We then moved on to the zip line. This was incredible. We got three goes, one as a first try, one with a midair dance contest and one where you dropped beanbags to score points. 10/10. The high-ropes was a midair obstacle course using the same technology as the zipline. I managed to get across most of it using no hands!! It felt like such an achievement and was an awesome activity.
Robinwood is renowned for its Piranha Pool and it did not disappoint. The Robinwood group leader Coach Chris told us that the Sun God had locked us in the room and we had to find his golden orb (door fob) to be released. The clues led us to believe that the orb was in the pool so we had to fish it out. Each of us attempted to slide across a pole that was suspended above the water in an attempt to retrieve the golden fob that we could see bobbing up and down. It was very entertaining to watch my friends, especially when they fell in. It was not as funny when the same consequence applied to me. The water was freezing and there was fake seagrass at the bottom which tickled my toes when they touched the bottom of the pool. We also made rafts using big pieces of plastic, floats and ropes. Unfortunately, we had to wrap that up early due to lightning. There was an incredibly giant swing. It would lift you up and then just drop you. There was a moment in the beginning when I was shocked at the thrill of being dropped so suddenly but I soon acclimatised and started enjoying it. My favourite activity was kayaking. There were three people per kayak and we played a game of stuck in the mud, the kayak edition. Coach Chris won but we all had so much fun playing the games. My least favourite activity was the night line, which is where we were instructed to follow a piece of string to the end of an obstacle course whilst blindfolded. We were told squirrels may wee on us. And they did! Luckily we were wearing waterproofs! It was an amazing experience and I agree with recent research concluding that residential learning experiences 'provide opportunities, benefits and impacts that cannot be achieved in any other context or setting'.
On 6th May, King Charles was crowned at Westminster Abbey in London. My day started with a royal-themed breakfast and then I joined the 20 million people in the UK as I watched the events unfold live on TV. Being a royalist, I enjoy reading about the royal family And keeping up with what they are up to. This was the first coronation in the UK in 70 years since Queen Elizabeth was crowned in 1953. The Archbishop of Canterbury led the ceremony. He is the leader of the Church of England. I was intrigued by all the symbolic items Charles was handed during the service, including bracelets, a glove, an orb, rings, rods and spurs. There were 2,300 guests at Westminster Abbey, I was star-struck seeing Professor McGonagall from Harry Potter amongst the guests. There were leaders from across the world, including the Commonwealth (a group of 56 countries, most of which used to be part of the British Empire). I did not realise that Charles would be king in 14 of these countries. Camilla was also crowned Queen. Park Hill Claim to royal fame: Mrs Hanna attended a garden party at Buckingham Palace and actually saw Queen Camilla! The Coronation event was marked in different ways across the UK in an attempt to bring communities together. I was lucky enough to attend a street party with amazing food on offer, a take that tribute band (which I'm sure Mrs Bleasedale would have approved of) and lots of fun things to make and do.
Park Hill held a crown competition and I spent a week making my crown. It was a collage of news articles about Charles as a Prince and soon, a King. I enjoyed getting creative. I wore my crown proudly on the day of the Coronation. Special mention to my sister Fatima, who occupied most of the dining table for the best part of the week. There was glitter confetti and gloopy glue right up till the day of the competition. Her hard work paid off and she won the crown competition in year 1. Well done Fatima.
Fact: Music is so influential on the brain that the type you listen to actually has the ability to change the way you think and look at the world around you.