In this section...
Fasting Vs Feasting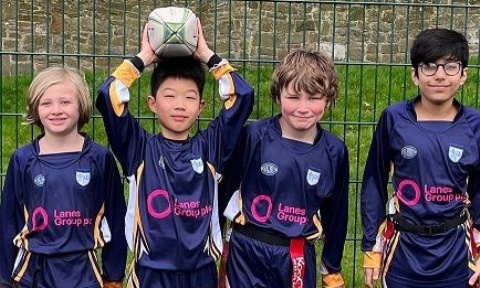 Hello and welcome to my blog!
Recently, a team of years 5 and 6 went to Blackpool Athletics centre to compete in the Small School Finals in Athletics. My sister Fatima was upset with me because when she heard I was going to Blackpool, she assumed I was going to Blackpool beach for the day. I was fortunate enough to travel with Paul A.K.A Mr Whitehead (sorry Paul). His stories were so entertaining that we were almost gutted when we arrived at our destination. We were representing Burnley which was a huge honour. As we were in the finals we already felt a sense of success. Some benefits of success are that it provides confidence, security and a sense of well-being. I was doing the obstacle relay, the vertical jump, the triple jump and the 1x1 race. When we arrived, we heard the host's introduction (or didn't because his mic was so bad). We started with the girls' races and the boys' field event. I jumped 40cm high in the vertical jump, then competed in the obstacle relay. I competed in the triple jump and I jumped around 4.2 metres. I did the 1 x 1 with Zak and we beat 2 teams! There was some tough competition from all the teams across Lancashire and we came 11th of 13 teams. We were happy to beat Blackburn just like we did in the championships! Go Clarets! The journey back with Paul was filled with a dose of fun and unpredictability. It was the cherry on top of what was a fun day with friends, representing our school and County.
We had the pleasure to take part in a Tag Rugby Tournament with Miss Grillo, please refer to the previous blog for the rules of tag rugby. We were in an incredibly hard group with Clivager and Stoneyholme schools. However, we dominated the group. We won every match at that stage! We warmed up with some American Rugby but unfortunately I injured my leg so I could not play the game. We were basking in the warm sun… until we weren't as it started lashing it down. Why is it so wet in Britain? I guess it's because of all of the kings and queens that reigned there 🤣 We were drenched to the bone and soaked through but we had a great time. Playing in the rain has lots of benefits. As well as being a sensory experience, it's incredibly stress relieving and helps in increasing your body's reaction time.
As you will see from the school's Facebook page, we had a non-uniform day and we were all eggcited to come in our clothes at the eggspense of an easter egg. The eggs were going to be used in our eggcellent family bingo night! I came in my favourite Burnley kit and reluctantly donated a toffee crisp easter egg hoping I'd be reunited with it on Bingo night!
Ramadan started on Thursday and I was excited about keeping the first fast. Islamic fasting, also known as Sawm in Arabic, is a religious activity observed by Muslims worldwide. It is one of the Five Pillars of Islam, which are the foundations of the Muslim faith. During the Islamic month of Ramadan, Muslims fast from sunrise until sunset. This means they stop eating and drinking from dusk until dawn. The fast ends at sunset with a meal called Iftar. Fasting aims to develop self-discipline, increase spiritual awareness, and strengthen your relationship with Allah (God). It is also a way to empathize with the less fortunate.
I woke up for sehri (meal before sunrise) to a yummy hot prata (flaky butter chapati) topped with a nutritious keema serving (minced meat). I ate it with yoghurt and had some milk. It was 4 in the morning and I was incredibly tired so I went back to bed. I woke up around 7 in the morning, which is later than usual as I did not have to have breakfast. I got dressed and waited in the car with my trusted friend, Percy Jackson, whilst Fatima and Yahya finished off their Nutella pancakes. Even though I had eaten a few hours earlier and I wasn't hungry, the smell of buttery pancakes was enticing. Nothing felt different when I went to school except knowing I couldn't eat or drink. When I went to pre-school to play with the E.Y.F.S. they were chopping fruit and suddenly all of my senses were on high alert and my instincts were to run to the food. To make it worse, they were toasting marshmallows in forest school! I played with the preschool children and went back to class, ready for maths. I didn't feel hungry until I heard what was for lunch. I ran to the dining room to get a sniff of what was cooking. Thanks to Mrs Kostilek and Mrs Conway, it was Barbeque chicken! The aroma was so nice that I wished I wasn't fasting but I stayed strong, heading to the next best place, the land of escape, the library. We played charades and games but I had limited energy left by the end of lunchtime. I headed to Music and then Hymn Practice for the final part of the day. At home, I couldn't look anywhere without seeing or smelling food. I was only half an hour away from iftar so I waited patiently knowing that my reward of salmon and rice would be worth it. I opened my fast with an indulgent delicious kajoor (date) and cold refreshing water. I felt energised. Then my mum expected me to eat my 5 fruits/veg for the day with a fruit salad. It was delicious. I felt lucky to open my fast with all this food knowing that there are people across the world that would not have the same privilege. I felt blessed and thankful. I loved the whole experience and can't wait to fast again. With it being assessment week my mum was cautious about me fasting during a school day but I was able to convince her by doing some research on the impact of fasting on our bodies. Did you know; the brain and body perform better during fasting? In the case of the brain, cognitive function, learning, memory, and alertness are all increased by fasting! Every Ramadan we have a set theme that we focus on as a family. It may be prayer, reflection, community, charity, etc. This year our theme is looking at how we can make a micro-impact around us. Examples include limiting food waste at Iftar time or walking to the local mosque rather than driving. I hope we can continue these habits long after Ramadan is over.
On Monday, some children from year 2 upwards went to Pendle leisure centre to hold Park Hill's annual Swimming Gala! We take turns swimming in year groups in ranks of boys and girls and try to get points for our Houses. There is a boys vs girls race at the end. In my first race, I finished 2nd. In my second race, I finished 1st. My favourite part of the night was watching the armband swimmers as they swam the width of the pool. It reminded me of when I started my swimming journey. St George ended in 2nd place after St David. Now, for the main event, the girls vs boys race. The boys have only won this race once so we needed to prove ourselves. We started strong but the girls were faster and they overtook us midway. It was catchup from then on and we were all hoping that Ethan could catch us up but a man can only do so much! Well done girls, very well deserved!
Fun fact: Plato and Socrates (Greek philosophers) fasted for 7-10 days to gain physical and mental efficiency. Pythagoras, A Greek philosopher and mathematician fasted 40 days before his exams and required his students to fast before they entered his classes.
See you next time!