In this section...
There's-no day like a snow day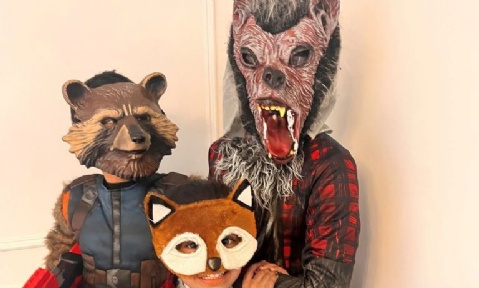 Welcome back to another edition of my blog
World Book Day was created by UNESCO in 1995 as a celebration of books and reading. In the UK, World Book Day is celebrated on the first Thursday in March. Several studies have highlighted the benefits of reading - which range from physical well-being to increased vocabulary and empathy. Park Hill rules stated to dress up as a non-human character. This meant I could not go as Harry Potter or Percy Jackson! We were all super excited to get dressed as our favourite non-human characters. I tried to make a centaur costume so that I could go as Chiron from Percy Jackson and the Lightning Thief. I brought some material and some stuffing and got to work. All went well till I had to attach the legs. I tried glueing, stitching and stapling them but could not get them to remain attached to the body. The legs kept falling off. In the end, I settled on the big bad wolf, the creature that eats grandma in Little Red Riding Hood.
I was the original villain with attitude from the Brothers Grimm. Jacob and Wilhelm Grimm were a brother duo of German academics, lexicographers and authors who together collected and published folklore. We had a parade before break time to showcase our costumes with the hope of winning and getting some chocolate.
The well-deserved winners were:
Pre-school: Dawoud. Rat from The Highway Rat.

Reception: Maariyah. Elmer from Elmer

Year 1: Ashton. Pelican from Giraffe Pelly and Me.

Year 2: Harrison. Bernard from No-bot the Robot with no bottom.

Year 3: Khadijah A. Winnie from Winnie the Pooh

Year 4: Ibrahim. Robot from Iron Man.

Year 5: Abby. Hungarian Horntail from Harry Potter, The Goblet of Fire.

Year 6: Aaminah. Tigger from Winnie the Pooh.
This year Mrs Whitehead came dressed as Cruella de Vil from 101 Dalmatians. Far from her actual character, Cruella is an insane woman who wants to use the fur of dalmatians to make a fur coat. The rest of the staff dressed as Dalmatians. Absolute comedy genius! I think everyone deserved to win because all the costumes were amazing. Special mention to Daneen for her spectacular dinosaur costume!
This just in, Friday was a snow day!! I am a snow lover and for all the rest out there, we are called chionophiles. I woke up and got news of a 3-day weekend and I couldn't believe my luck! I immediately looked out of my window, there were blankets of snow for miles and it looked like a picturesque panorama. I don't think we have had this much snow all winter as it was stacked about 7 inches high! Snow absorbs sound, reduces noise pollution (up to 60%) and calms stress. It also is the most reflective natural surface on earth. Sadly I had left my wellies, waterproofs and sledge at school! Nonetheless, I forged outside and started my duty of… building a snowman!! You can see pictures on the school's Facebook page. The first one I made was so much fun, the main part of the body was so heavy that I had to load it onto a wheelbarrow to get it on. Then, my mum had the bright idea to make another one. Fatima was secretly enjoying eating the snow but studies have found that new snow can contain weird stuff like pesticides, soot and even mercury and formaldehyde so I ran to save her. Making the second snowman was easier than the first one but still difficult. I dressed it up as Harry Potter. I guess there's-no day like a snow day. What did you do?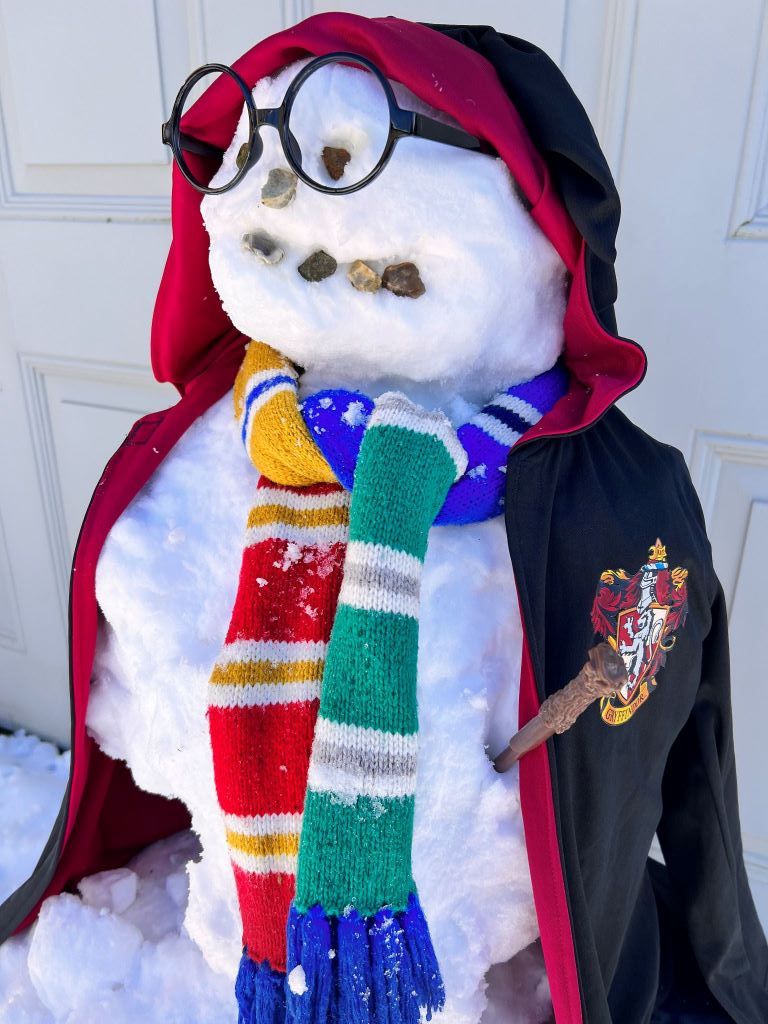 Hogwarts Legacy has just been released and I am not kidding when I say it is the best game ever. It is set in the 1890's so you aren't replaying Harry's adventures from the books but you are embarking on a personalised adventure. You actually have to attend classes to learn different spells, potions and beast care. You can fly around on brooms and capture magic beasts, kind of like 'Fantastic Beasts and Where to Find Them'. The deluxe edition is definitely worth it and I highly recommend the PS5 edition for extra rewards. You Nintendo users will have to wait a bit longer for this game. Sadly there is no quidditch which would have been spectacular. Having said that it doesn't take away from the brilliance of this game, I still hope to see it in a later update. In the storyline, you have to stop a goblin called Ranrok from starting a rebellion. With the help of paintings, you use your ancient gift to give Ranrok the wrong side of the blast-ended skrewt. If you know, you know. A must-have (though not for people with Arachnophobia).
On Tuesday 7thth of March, a team of Years 5 & 6 went to the Prairie Sports Village to play a few friendly games of Tag-Rugby. Tag-Rugby is a non-contact team sport in which each player wears a belt that has two velcro tags attached to each side. The aim of the game is to score as many tries as possible within the time limit. Attacking players attempt to dodge defenders to get to the other side. Defenders try to tag (pull the tag off of the belt) the attackers. It was very cold but we immediately warmed up as we started the game. Playing in the cold strengthens your immune system. We were destroying the competition in the first two fast-paced games but lost the next one. We drew the final game. Collectively, we showed the school value of hard work. Some benefits of working as a team are better problem-solving skills and smarter risk-taking. Shout out to Haady for getting the most tries.
Recommendation: Harry Potter Fan Club. Some may say I'm biased but this app is a necessity for Harry Potter fans. Link this to Hogwarts legacy for extra rewards.
See you next week!