In this section...
Super Swimming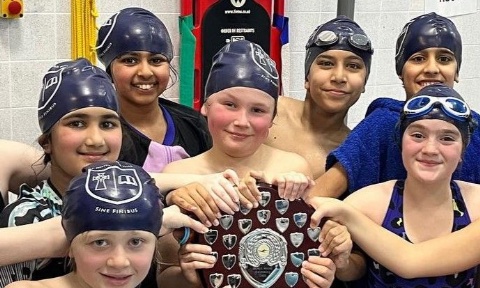 Hi and welcome back to my blog. We're halfway through the year already!!! Time flies by when you're having fun.
I joined 11 others at Casselton swimming baths to compete in a swimming gala. Did you know that while your muscles are getting a good workout during swimming, your cardiovascular system is too? Swimming makes your heart and your lungs stronger. There were 4 other teams to beat but we had high hopes of finishing on the podium. Thanks to a donation from Ethan's dad, we had matching caps and looked like a professional and coordinated team. We started on backstroke and Ethan kept up his legacy finishing 1st. Zak from Y6 came third but thanks to a lucky disqualification, he ended up in 2nd. Breaststroke was the next category and Ethan shot off like he was a bullet getting us another first! I was next. I chose to dive underwater and I swam as fast as I could. I managed to get a 2rd place which was amazing (I think). Freestyle events were next and Aqsa walked to the starting line. She went first and I got ready for my take-off. I dived into the water and kicked to the surface. Freestyle is the stroke that most people are fastest at so I thought my result of 3rd was good. The relays were around the corner. Florence was starting with a backstroke to the end. She set off and I got ready to dive in for my breaststroke segment. I waited for her to touch the wall and I leapt in. I tried to propel myself forward as possible, and in the end, we finished 3rd. The results of the event were in and we thought we had done well, but we never expected to come FIRST!!!!! Well done Park Hill. Sometimes swimming is hard work and sometimes it is easy. It Deep-ends 🤣
Recently, I was surprised by something brilliant. A couple of weeks ago, the whole of KS2 entered a comic strip competition run by ISA (Independent Schools Association). The theme was eco-friendly transport so I thought of a truck driver polluting the air. I wanted to make my comic light-hearted, so I went with animals instead of humans. Here is a picture of my comic:
After I had drawn it. Mrs Haasbroek chose two winners from each class. There were many awesome creations but myself and Khushleen managed to get picked from year 6. I went back to thinking about homework, video games and other normal things that occupy an 11 year olds brain. Last Friday Mrs Haasbroek announced that the national winner was someone in our school. I thought it was Khushleen, after all, her entry was phenomenal. When my comic illuminated the screen, I was shocked. I walked up to the stage not quite believing my luck. I felt very proud to receive my award. It has encouraged me to always try my best because my best is good enough. Research on drawing suggests that it boosts self-esteem, in this case, more than once. On Thursday, my prize arrived. It was a Play in Choc mega box. I have had so much fun enjoying chocolate treats that come with 3D puzzle toys and fascinating animal fun fact cards. I loved the experience and look forward to entering more competitions.
Peter from the Pendle community orchestra came to inspire and recruit some young musicians. The aim was to encourage musical development regardless of age. He showed us the inner workings of a piano and played songs with immense skill. I discovered the different sizes of saxophones. His clarinet was made of beautiful black African wood. If I can improve further on my guitar and piano skills, I would love to join.
Tuesday was arguably the biggest singing event of the year. Young Voices; The largest school choir in the world! Young Voices is an educational program designed to use music to develop skills such as communication, collaboration, creativity, mindfulness, and innovation. The aim is to inspire a love of music and create memories for the children that will last a lifetime. Gigi Morley was presenting the show, she is a broadcaster, specialising in lifestyle and entertainment programming, working in both television and radio. A team of our best-voiced juniors went to the AO Arena in Manchester. Over the course of months, they had been learning tons of songs to perform in the enormous choir. I was fortunate enough to watch the concert with my family and nothing had prepared me for the sound of thousands of children singing their hearts out whilst holding little lights that shone like stars. There were so many surprises, Urban strides, a street dance group performed, and Heather Small from M people sang 'Proud' accompanied by tens of thousands of kids. My favourite act was M4GNETS, they are vocal harmony stars featuring the best vocal and beatboxing A cappella talent Britain has. A Cappella is music performed without musical accompaniment. This was a truly magical event and if you have an opportunity, I recommend going to the 2024 event.
Fact: On Mars, sunsets are blue!
See you next time!!