In this section...
Fatima's Second Blog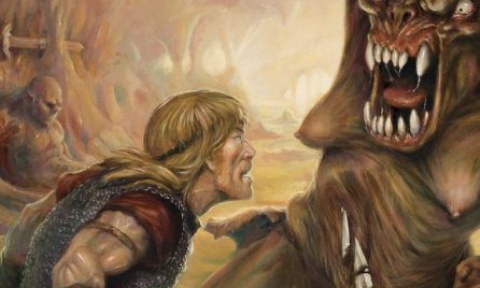 Hi! Welcome to my second blog entry. This week I am going to tell you about the interesting story we learned about for English and all about the micro bit work that we have been trying in computing.
In English we have been learning about the epic tale 'Beowulf'. It's based on an epic oral poem that was told in the Anglo- Saxon times. I am going to show you a piece of writing that I've completed but first I'll tell you a bit about what has happened so far. 'Beowulf' is set in Denmark in a mead hall. There is a monster named Grendel who is killing and eating people! The Geat Prince Beowulf came and saved the Danes by killing Grendel! My narrative, which you can read below, is based on Grendel's slaughter in Heorot, the mead hall, where Beowulf lives. I have used alliteration and kennings to bring the story to life.
Also, in our Computing lessons, we've been learning about the micro bit. This is a mini computer that glows and uses code that we wrote on our computers. We have written code for a night sensor which can be used by visual and hearing impaired children when crossing busy roads. We programmed the sensor to show a green man for 'go' and a red man for 'stop'. We also programmed the sensor to play a beeping sound to alert children who are visually impaired that it is safe to move.
Overall, these past 2 weeks have been full of fun, and, as usual, I've loved exploring new topics! I hope you've enjoyed this entry of my blog. Thanks for reading -
See you next time! :)
My 'Beowulf' Narrative:
With a rage-wrecked roar, the beast of blood and death, known as Grendel, tore through the door of Heorot, cascading wood everywhere. The foul-fiend of fear and fury rushed to the end of the hall ready to start his feast and soak the walls and floor of the hall with blood. As he approached the end of the hall he stopped, only to see solitary, startled sentries sleeping in the hall. He began his flesh- feast with the sentry closest to him: Hetrox. The mighty murderer ripped through his skin, feasting on him with gore and gluttonous pleasure, until not a hair on his head, a piece of skin or even a nail was left! The floor around him was a deep vermillion, his blood soaking the mead hall.
Beowulf awoke at the screaming of his thanes. He crept behind the hideous beast of terror and valiantly clamped his mighty hands of steel onto Grendel's arm. Grendel wrestled in rage to free himself of the mighty warrior's grip, tighter than any he had felt before. He knew now he had met his match. The beast of death and destruction turned to see Beowulf. He tried to bite his neck, to kill him, to devour him like he had his thanes... but the mighty Beowulf dodged!
Everyone could hear the shouting and screaming inside the mead hall, the Geats and Danes alike.
What remained of Beowulf's army stood behind him, each armed with a long, silver, shiny sword in hand. The terror-tyrant screamed in agony and torment as Beowulf valiantly twisted Grendel's arm, snapping his bones and tendons. After one more mighty push the marauding-massacring murderer's arm was ripped off! Grendel's shoulder spewed vermillion blood as he fled, to die in the comfort of his lair.