In this section...
"I'm a Headteacher, Get me out of here!"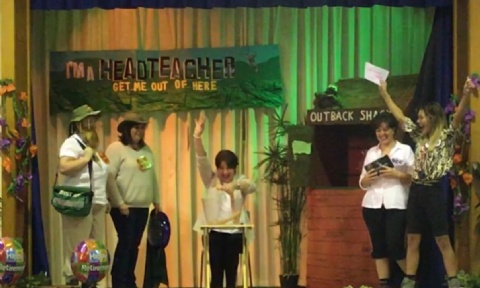 Mrs Robinson's Leaving Assembly
We said goodbye to Mrs Annette Robinson on Friday 21st December with a memorable assembly entitled, "I'm a Headteacher, Get me out of here!"
Mrs Robinson served our school tirelessly and passionately for 17 years – initially as Year 2 teacher, then as KS1 leader, then Deputy Head and from 2009, our Headteacher. During that time, Mrs Robinson was the driving force leading the school to become the wonderful place it is today.
In the assembly, Mrs Robinson was subjected to a series of trials and had to win 10 stars in order to retire! Despite facing creepy crawlies, eating fish eyes, drinking a 'vomit fruit smoothie' and handling a real live snake, Mrs Robinson triumphed and counted out 10 shiny yellow stars at the end of her trials! So we had to let her retire. But we sent her on her way with lots of wonderful gifts, flowers and much love from the children, staff, parents and governors. She will be greatly missed and we hope she comes back to visit us soon.